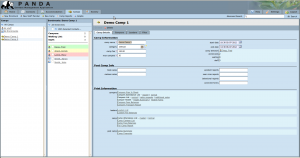 Panda Addressbook is a web application for managing a charitable organisations contacts. Managing of contacts can be sorting into groups, camps, accommodation, membership (along with society renewals), tracking of donations, mailing them, invoicing them and much much more….!
It keeps track of people, camp management and accommodation for you so you don't have to.
The manager of CYC Waihola has been active in the development of this application for the past 15 years and it has been used exclusively for the management of camps, enrolments, society administration, accommodation bookings and newsletter mailouts for the past 10 years by CYC Waihola. It is a one stop software package for all New Zealand kids camps and charitable organisations.
At the core of the application is the contacts and invoicing – everything is based around the contacts – it sorts contacts into lists (or groups), it prints address labels and envelopes directly, e-mails contacts directly and manages files related to the contacts along with much much more.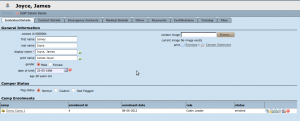 Main Features:
Multi user online system – ie several users in different parts of the country can access the system at the same time
Browser based so installable on all operating systems (All Windows versions, Mac OS, Ubuntu Linux, iPad/Android Tablets with Chrome installed)
Unlimited contacts
Unlimited groups to group the contacts in
Contacts can be grouped into multiple groups
Export to vCard, CSV, HTML, PDF labels, PDF envelopes and XML formats
Powerful donation tracking including printing end of year tax receipts
Print reports, receipts, labels and envelopes directly from the system
Mailout features to allow mailing contacts directly via email (postage is getting expensive in this country!!) and keep track of previous mailouts – this feature is very good for newsletter mailouts and board meeting notifications.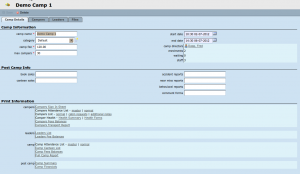 Camp Module Features:
Add camps for campers to enrol in along with fees management, max numbers and waiting lists
Make contact regularily with campers and staff throughout the enrolment process including invoicing for camp fees with live Xero intergration
Enrol campers based on OSCAR standards – ie keeps track of health issues, dietary requirements, emergency contacts, camper fees, behavioural issues, etc.
Run camps based on OSCAR standards – prints attendance lists, fire evacuation sheets, health issues forms, over due fees
Staff Management

Add as many staff as you want
OSCAR standards managed – police checks, application forms, references and referees, staff evaluations, staff training
Assign different roles to staff within camps

Upload files related to staff and campers for ease of access and for new OSCAR electronic pull-up system requirements
Complete camp history builds up picture of camper numbers, camp attendance.
Green / Yellow / Red flag campers to indicate issues with behaviour / health at past camps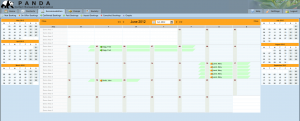 Accommodation Module Features:
Add different areas of accommodation
See at a glance group accommodation on offer, confirmed, paid.
Track cancelled groups
Book groups into different areas of camp-site
Track activities used by groups
Powerful invoicing of groups after stay including live Xero intergration
Powerful bed night tracking and reporting
Current Version:
Screenshots:
Click on the images above to see full size screenshots (version 1.7)
Panda is currently used by:
New Zealand Post Polio Society
Christian Youth Camps (Waihola) Inc
Mosgiel and North Taieri Presbyterian Church
Camp Manaia (Northland)
Coopers Beach Christian Camp (Northland)
Pricing and Licensing of PANDA

Licencing of PANDA is neither closed nor open for charitable organisations – its probably best described as "ministry source" – code ownership remains Tim Wiel's along with any changes made. Changes and feature requests are possibly but may require us to charge for the work we have put in.
We are happy to work something out. Please email panda@cycwaihola.org.nz for a demo and for more information.
PANDA costs $20 per month for hosting and to cover costs of bug fixes and upgrades.