Come away to our annual church families camp for a refreshing break – let us do the cooking for you!!!
With refreshing speakers, good food and activities for the kids – family camp is an ideal holiday for those wanting a break
Dates:  Monday 25th – Friday 29th April 2016
Price:  Donation to cover costs
Camp Venue:  Main Lodge @ CYC Waihola
Camp Age Group:  All Ages – however young people under 16 need to have an adult responsible for them also at the camp.
About Family Camp
CYC Family Camp is a camp of fellowship, teaching, discussion, great fun, good food and above all getting closer to God through His scriptures.
The camp is for all families, couples and individuals that desire a deeper grasp of the historic faith of the Scriptures. CYC Waihola puts together this camp believing that the Bible is fully inspired by God and is the final authority on all matters of the Christian faith.
The CYC Council expects campers to attend all meetings, fully support the camp programme and happily observe the posted camp rules. You will also be expected to assist with camp duties
Accommodation at Camp
There is limited accommodation that is available to those who attend as a family in our chalets and bunk-rooms – our on-site accommodation is allocated after registrations close, according to most need.
CYC also has caravan points or you may choose to stay off site in local motels, camping grounds or B&B's.
Activities at Camp
Childrens program for Primary school aged children will be looked after Family Worship during the morning speaking sessions in the downstairs area under the kitchen.
Teenagers will be expected to attend the first of the speaking session in the morning. After the evening session there will be a teenage program for them to attend with parental permission.
Family Activities each afternoon at camp there will be organised activities for families – these may include geocaching, paint-ball, adventure-based activities, treasure hunts, family tabloid sports competition.
Camp Speakers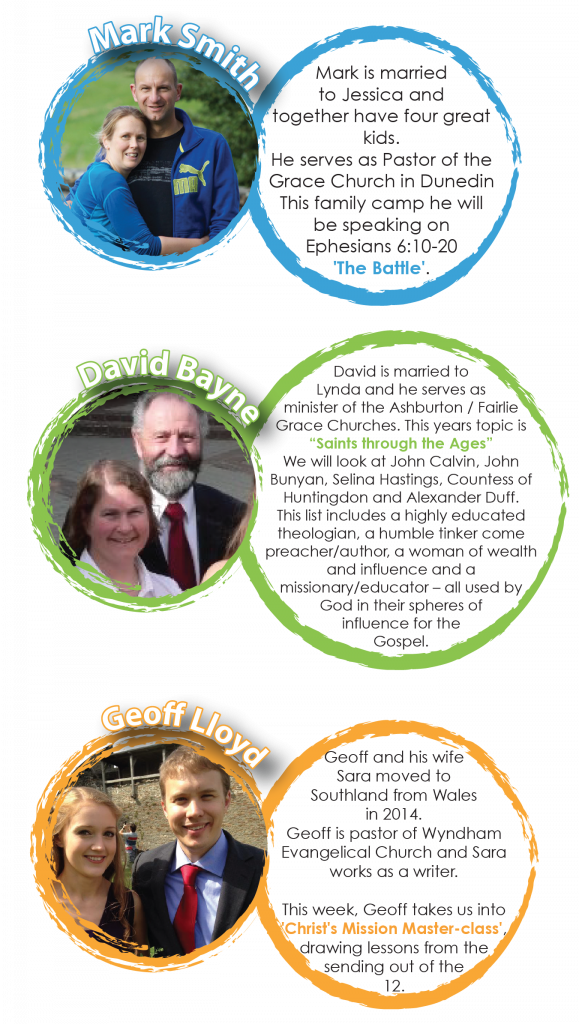 Cost of Camp
There is no fixed charge for the camp however it does cost CYC to run this camp so it is expect that those attending will contribute what they can. Click here for donation information.
Arrival and Departure Details
You can arrive at camp from 4.30pm to start unpacking and setting up but the official Family Camp program starts with tea in the Main Lodge at CYC Waihola at 5.30pm on Monday evening (25th April) and finishes on Friday (29th April) after lunch and clean-up about 2pm.
You will find CYC Waihola on Finlayson Road, about one kilometre from State Highway One in Waihola. In Waihola turn left away from the lake at the Challenge Service Station. You will find the Main Lodge on the left at the camp in the end of the gravel drive.
Register for Camp
It is important that you register for Family Camp as we have limited accommodation available and we can only cater for a certain number of people for the weekend.
Registrations close on 15th April or earlier if we have reached capacity.