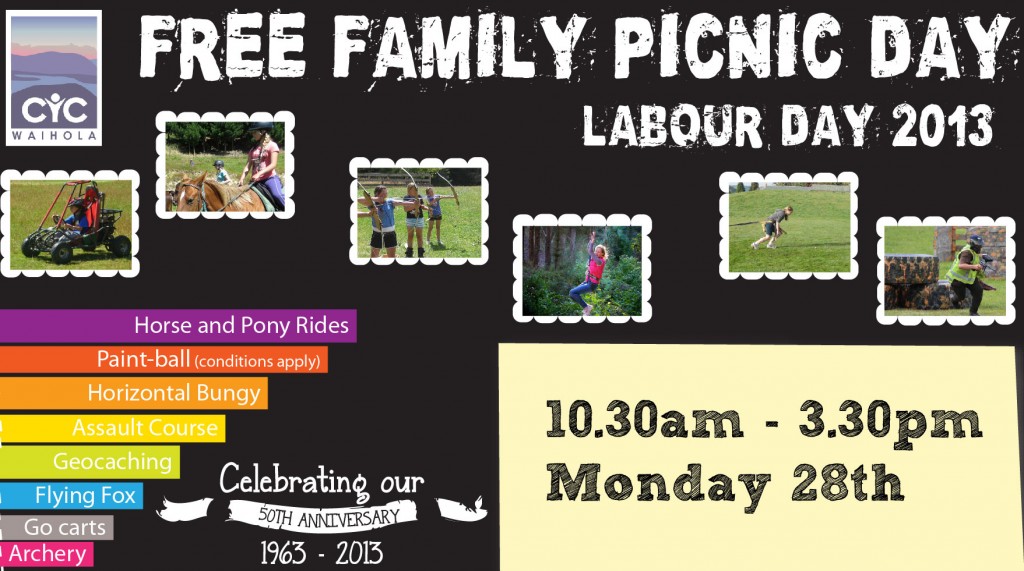 As part of our 50th Anniversary Celebrations over Labour Weekend 2013 we are holding a free family picnic day for families. Invite all your friends and family to try our some of our awesome activities and show them what CYC has to offer – all for free.
Starts at 10.30am and will finish around 3.30pm – register your interest in coming on our facebook page here – https://www.facebook.com/events/454956937933004/
Cost for the Day
The Family Day is completely free – there is no cover charge or cost to have a go on the activities. Donations are welcome to cover the cost of running the day.
The only exception is the Paint-ball which will cost $10 per game – see below for paint-ball conditions.
Activities
Flying Fox (age limit 6+)
Archery (age limit 5+)
Go Carts (age limit 6+)
Paint-ball (age limit 10+) ($10 cover cost)
Horizontal Bungy (age limit 5+)
Horse Rides (no age limits)
Geocaching (no age limits) – bring your own GPS device if you have one otherwise you can borrow one of the camps.
Assault Course (age of suitability – 6+)
Playground (no age limits)
Massive inflatable Obstacle Course (age range 5 – 8 years old)
Bouncy Castle (under 5 years old)
Picnic Lunch
CYC Waihola has beautiful park-like surrounds so bring a picnic lunch and rug to sit on and enjoy our wonderful grounds. We will be running a sausage sizzle and the canteen for people purchase a sausage. Sausage, onions, sauce and bread will cost you $2.50 each (they are big delicious sausages) or buy some lollies from the canteen.
Paint-ball Conditions
Games are limited to only one game per person on picnic day – if you love paintball then come back to our twice yearly paint-ball days
Paint-ball has a high risk of injury and CYC Waihola or the paintball operator will not be held accountable for any injury sustained to person or property.
All persons must be at least 10 years of age to play unless permission has been granted and signed for by the caregiver of the child on the day.
The provided protective headgear must be worn at all times inside the arena
Shoes must be worn during gameplay.
Paint-ball ammunition must be purchased from CYC Waihola.
The CYC Waihola camp-site is an alcohol free and smoke-free area at all times. No alcohol is permitted to be brought onto the property
All instructions of the paint-ball operator and CYC Waihola staff must be adhered to for safety reasons.
Game-play will be organised as a first come first served basis on the day – all game play will finish at 3.30pm.
Personal Paint-ball markers used on the day must be used with our purchased paint-balls and must fire at slower than 290fps.
Wet Weather Contingency Plans
Unfortunately if the weather is wet then we will publish notice of cancellation on this website and on our Facebook page here https://www.facebook.com/cycwaihola