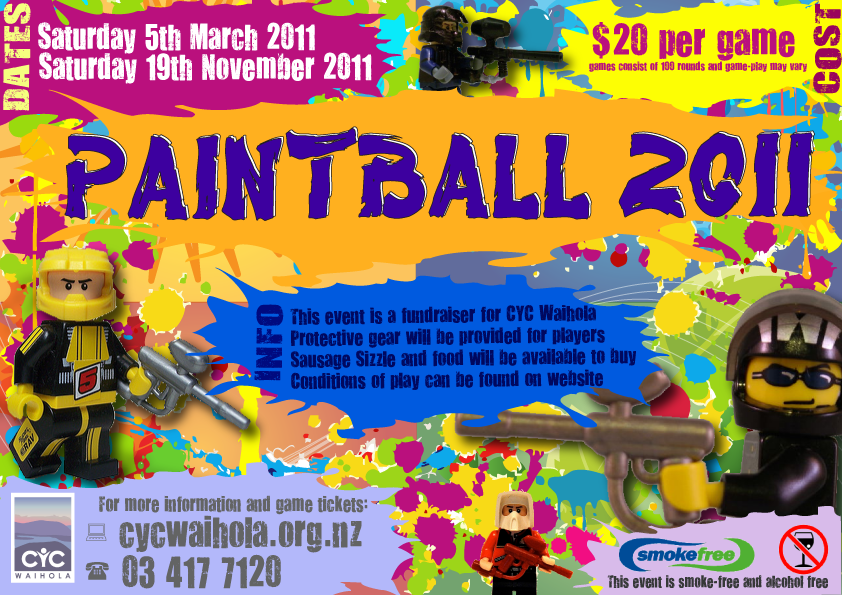 Date, Time and Location
Date: Saturday 5th March 2011 and Saturday 19th November 2011
Time: Starting at 10am

Location: Paint-ball Field at CYC Waihola. This is right up the driveway to the right off Finlayson Road. See here for directions from Dunedin or here for our location map.
General Information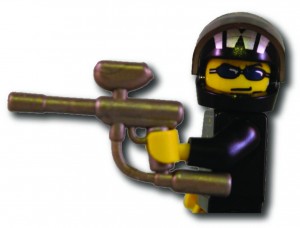 Game-play tickets cost $20 and can be bought prior to the day  (ph 03 417 7120 or email kidscamps@cycwaihola.org.nz) or on the day.
Those who have purchased game tickets are entitled to a free hot shower at the end of the day in the CYC showers.
Available for purchase during the day will be energy drinks, lollies, chocolate bars and a sausage sizzle.
Register your interest on our Facebook events at http://www.facebook.com/cycwaihola
You may bring your own marker guns and protective gear however marker guns must fire paint at slower than 300fps if to be used. You must purchase paint from us at game-ticket prices.
Game Play
A purchased game consists of 100 rounds of paint-ball ammo – this maybe used throughout several rounds of play in the arena. If you run out of ammo during game play you will need to purchase another game ticket.
Several different game-play rules maybe used through out the day on request and will be explained by paint-ball operator on the day:

Capture the flag
Yellow vs Orange team elimination
Total Annihilation (all on all death-match)

Games will be organised into games of 2 teams – contact the CYC office or notify the ticketing desk on the day if you want to play as a team.
Conditions of Play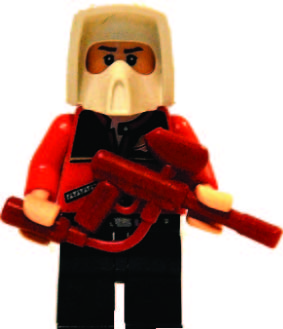 This Paint-ball day is a fund raising venture of Christian Youth Camps Waihola – therefore no refunds for unplayed game tickets purchased will be made.
Paint-ball has a high risk of injury and CYC Waihola or the paintball operator will not be held accountable for any injury sustained to person or property.
All persons must be at least 10 years of age to play.
The provided protective headgear must be worn at all times inside the arena
Shoes must be worn during gameplay.
Paint-ball ammunition must be purchased from CYC Waihola.
The CYC Waihola camp-site is an alcohol free and smoke-free area at all times. No alcohol is permitted to be brought onto the property
All instructions of Paint-ball operator and CYC Waihola staff must be adhered to for safety reasons.
Game-play will be organised as a first come first served basis on the day.
Personal Paint-ball markers used on the day must be used with our purchased paint-balls and must fire at slower than 300fps.
Last update: 31 January 2011